The Line Haul Museum, started in 1997. Its goal is to preserve the history of the truck driver during the Vietnam War. We do this by going to schools, living history events and parades. I hope this site will spread the word about the history of the Line Haul driver and make people aware of the history that we have walking among us.
There will also be comments from me and what the Museum has done in the past and the near future.
Save for them a place inside of you and save one backward glance when you are leaving. For the places they can no longer go. Be not ashamed to say you loved them. Though you may or may not have always. Take what they have left and what they have taught you with their dying, and keep it with your own. And in that time, when men decide, and feel safe to call the war insane! Take one moment, to embrace those gentle heroes...
You left behind...
~Major Michael D. O'Donnell~
January 1, 1970
Dak To, Vietnam
2010 Living History Show, Ft. Drum NY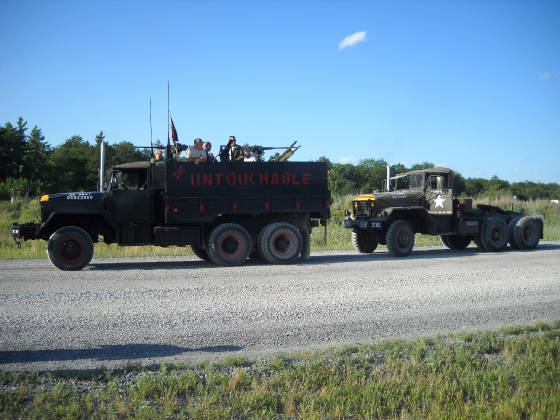 Convoy with a replica 359th Trans Co Guntruck.
Click on the tabs above to Navigate the Site!!!!
2012 Green Mountain Military Vehicle Show